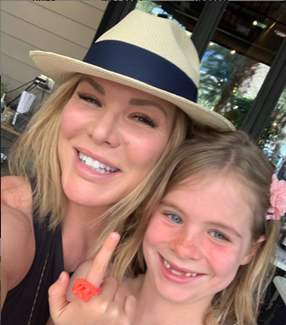 I hope you and your family are hanging in there if your state is still slow to recover.
Now that Arizona is reopening, we took advantage of enjoying our first family night out in quite awhile. The kids were so excited to go out that they changed outfits twice while getting ready. It was great to see other families out and about during our early dinner and gelato.
(Lest you think my daughter is flipping you the bird in this photo, she's showing off her Wikki Stix ring she made at dinner. We've all gotten a little goofy over the past few weeks!)
I'm glad to see that 'the curve' looks to be trending downward in many areas, and this topic came up today in my online interview with my European client Sigrun Gudjonsdottir. She shared that her home country of Iceland is now showing to be one of the safest places to be this summer.
Sigrun runs a multiple-7-figure coaching company specializing in taking your business online, and her mission is to accelerate gender equality through entrepreneurship.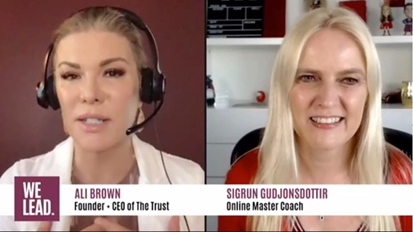 But many don't know that she was also known as a
turnaround-CEO
, because her previous career was steering European companies back on track.
In our interview today, Sigrun shared what she learned in the process. And also the big changes she made in her current client programs to align with what her clients most needed at this time. (Interestingly enough, it wasn't providing new information, but instead simply changing the order it was presented and delivered, which made all the difference.)
You can watch the replay now on LinkedIn, Facebook, YouTube, or Instagram.
This was an episode of my new Web show We Lead LIVE, where you'll hear what brilliant 7- and 8-figure entrepreneurs are doing right now during this turbulent time to not only survive, but thrive — whether it's doubling down, playing it safe, or shifting gears completely.
#WeLeadLIVE is broadcast every Monday + Thursday at Noon ET/9am PT simultaneously on LinkedIn, Facebook, and YouTube — I hope to see you there with us on my LAST show of Season One, this Thursday!
PS — Be sure to follow me on your platform of choice and turn on notifications, so you'll never miss a broadcast!