I hope and your family had a relaxing Mother's Day. Celebrations of those we love and appreciate can really help to bring a sense of normalcy and gratitude back to life!
My Sunday wasn't too luxurious, as we had to pull prickers out of my nearly 7-year-old son, who fell straight into a cactus while riding his bike! (One of the hazards of the desert lifestyle here in Scottsdale.) We avoided urgent care, but the day went a bit downhill from there. (No pun intended.)
Moving on, I want to share with you a powerful LIVE conversation I had this morning with one of my admired colleagues, Lisa Hufford, founder + CEO of Simplicity Consulting up in Seattle, Washington.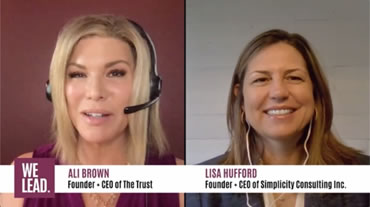 She's built a $30M marketing + business consultancy
and become one of the
largest women-owned companies
in Washington with her 'un-agency' model. Her clients such as Amazon Web Services, Expedia, and T-Mobile regularly hire from her pool of 8,000+ consultants.
Yes the professional 'gig economy' was thriving before the pandemic, but now nearly ALL businesses have taken a hit in the last few months.
So where does Lisa see her industry going from here? And what are her strategies for staying at the top of her game? She shared some particularly profound advice I think you'll find helpful, no matter the size of your venture.
You can watch the replay now on LinkedIn, Facebook, YouTube, or Instagram.
This was an episode of my new Web show We Lead LIVE, where you'll hear what brilliant 7- and 8-figure entrepreneurs are doing right now during this turbulent time to not only survive, but thrive — whether it's doubling down, playing it safe, or shifting gears completely.
We broadcast LIVE every Monday + Thursday at Noon ET/9am PT simultaneously on LinkedIn, Facebook, and YouTube — I hope to see you there with us on an upcoming show!
PS — Be sure to follow me on your platform of choice and turn on notifications, so you'll never miss a broadcast!