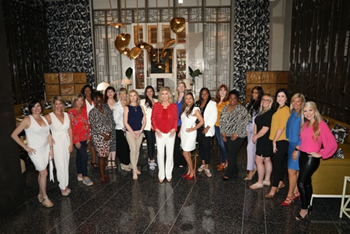 I'm just returning home from a wonderful week-long family vacation in the Florida Keys after hosting our
Official Spring Meeting of The Trust
: my modern, premier network for 7+8-figure women entrepreneurs. And I'm thrilled that so many of the members joined us LIVE from all across the country!
If you're following me on Instagram, I hope you have seen the photos of me connecting with The Trust members and vibing high. There is nothing quite like the power of LIVE events to focus on BIG goals and pioneer new models of leadership. (You can also see more BTS shots on The Trust's IG, including our Special Guest Advisor Kara Goldin—Founder + CEO of the $150 Million+ company Hint— and some authentic Miami flair!)
The members of The Trust are incredible entrepreneurs (all in the top 2% of women business owners) and I'm continually amazed at their willingness to share their wisdom and create a space of POWER… along with transparency and vulnerability. Our members' revenues range from the low millions up to $50M+.
We ALL left feeling a sense of renewal and clarity to bring our biggest visions to life this year, and I'm excited to see how this group continues to evolve.
If this sounds like a network you'd love to be a part of, I'd love to tell you more…
The Trust is the
modern, premier network
for 7+8 figure women entrepreneurs who are looking for something much different than your typical mastermind or networking group.
We are preparing for more exciting growth and events, with some incredible Special Guest Advisors joining us — female business icons who have founded and led 9-figure companies.
>> If you are an entrepreneur currently running a business generating revenues within the 7-8 figure range, you are invited to join me for a special *closed-door informational session* on Thursday, April 15 at 1pm ET/10am PT.
I will be personally hosting this call to share more details about The Trust, including all the benefits as well as our upcoming LIVE and virtual events. I will also be answering your questions, so you can see if this would be a great fit for your goals in 2021. To learn more and apply for an invite, visit our special call page here.
Should you feel called to one of these opportunities, my team and I look forward to hearing from you.
Best,
Ali
PS — If you have specific questions about The Trust you'd like a quick answer to, feel free to DM me on Instagram.